Eden in Belize Site on the Macal River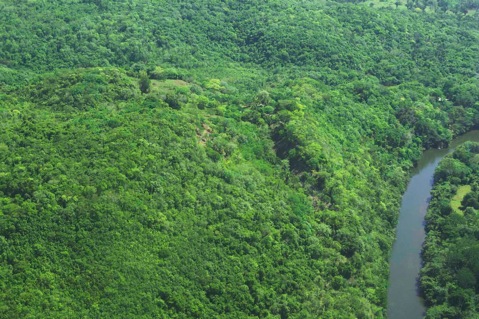 In the spring of 2009 one of our clients began to purchase tracts of land in Belize. He knew a number of entrepreneurs and physicians who were getting frustrated with the political climate in the USA, and were looking for a "Plan B."

He had visited several Enertia projects and admired their hardened solid construction, logical common-sense design and ability to be independent of the grid.

The idea of a self-sufficient compound in a warm, English speaking country is appealing, but few will make such a major "Change" purchase without trying it out.

Exploring the Property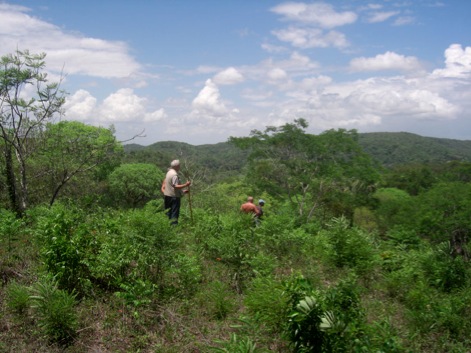 Enertia was first asked to design an energy self-sufficient condo for rental and time-share purpose, but the idea developed into a full fledged resort once we comprehended the beauty and uniqueness of the site in the highlands of Belize, Central America.


As is usual in these cases, Michael made a site visit, and energy audit. Most of our USA projects have been in cold climates, but the mathematical models show Enertia®: "Energy-from-a-shift-in-time" will work in hot climates too.
Overlooking the Valley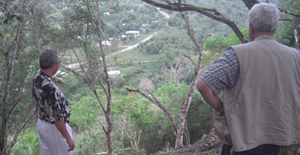 And what a site it was- including a mountaintop with a steady wind, down to a year-round clean (drinkable) river. The challenge: to develop it without disrupting the Central American jungle-to-high plains ecology. Highland Belize has two seasons- the Wet and the Dry.
Down by the River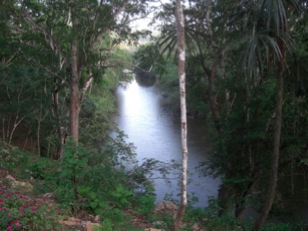 Enertia Airflow Diagram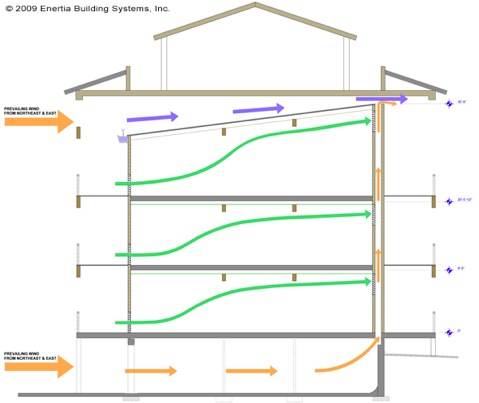 Eden, as we began to call it, will use the river and the breeze for evaporative cooling in the Dry season, and the wind generated electricity for de-humidification in the Wet season.

The first project, a condo/ rental unit, required a minimum surface area swept by evaporating moisture for the wick-cooling effect. Not one to waste visual effects- we used waterfalls and an invisible-edge spillway pool for the sources.

The stack-effect double Enertia® wall was moved to the West to make use of, and divert, the breeze coming from the East. The design, although ultra modern in energy and layout, still has the Central American "pre-columbian" look, and is not out-of-place in the jungle.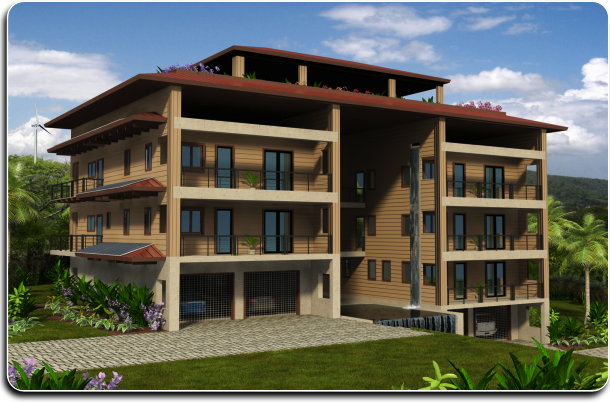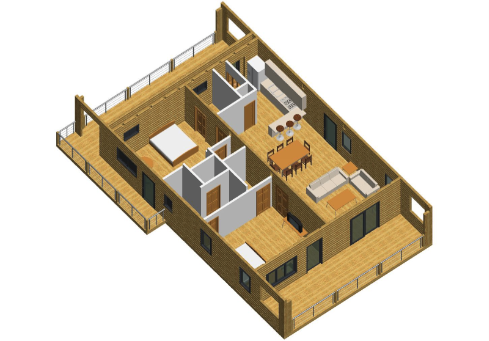 This is the layout of the one story. two-bedroom Condo unit.

Below are the lower (left) and upper level layouts of a two story, four-bedroom Condo unit.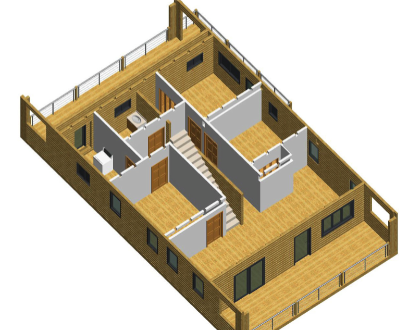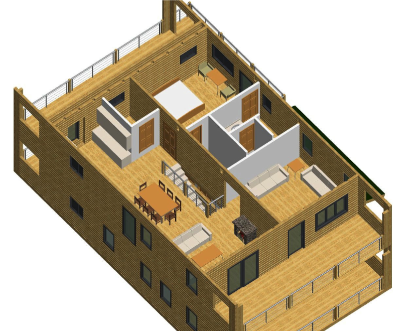 The entire Resort project will feature multiple buildings with the mayan "look", and a series of raised wooden-walkway trails and zip-lines, to avoid disturbing the soil and vegetation. The developer has purchased a lot in town to serve as a staging area for construction, and as a permanent entrance to the
Eden-in-Belize Resort
.
Transportation to the resort site will be by Land Rovers converted to electric.